We bought the Ninja Foodi NeverStick Premium Hard Anodized Cookware Set to put it to the test in our reviewer's kitchen. Please continue reading for the rest of our product review.
New cookware is always exciting, so I was looking forward to trying out the Ninja Foodi NeverStick Premium Hard Anodized Cookware Set. The company is well-known for its appliances, but its foray didn't convince me into cookware. Will the cookware live up to the blenders, or will it just be another ninja, neverstick cookware? I gathered recipes for each pot, including sticky foods to test the nonstick properties and meals to brown.
Ninja Foodi Neverstick Premium Hard-Anodized Cookware Set
An 8-inch frying pan, a 10 1/4-inch frying pan, a 2 1/2-quart saucepan with a lid, a 3-quart sauté pan with a cover (the lid also fits the bigger frying pan), a 6 1/2-quart stockpot with a lid are included in the 8-piece set I tested. The smallest frying pan does not have a lid, but I rarely use a pan that tiny. While I enjoyed this cookware set, I would have chosen a 3-quart saucepan rather than the 2 1/2-quart. Still, the 2 1/2-quart saucepan was large enough to cook my favorite boxed mac and cheese, so it should be plenty for most applications.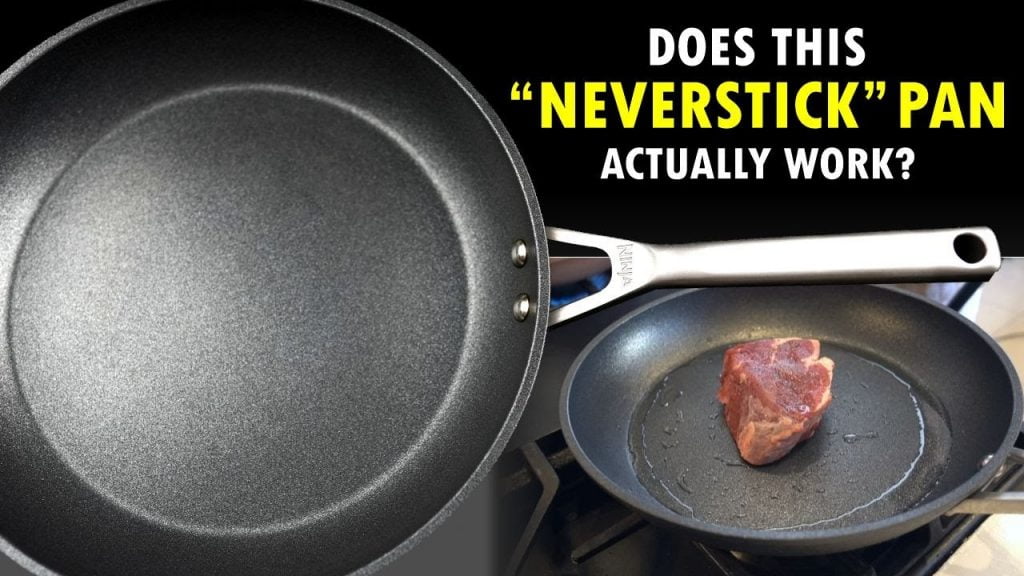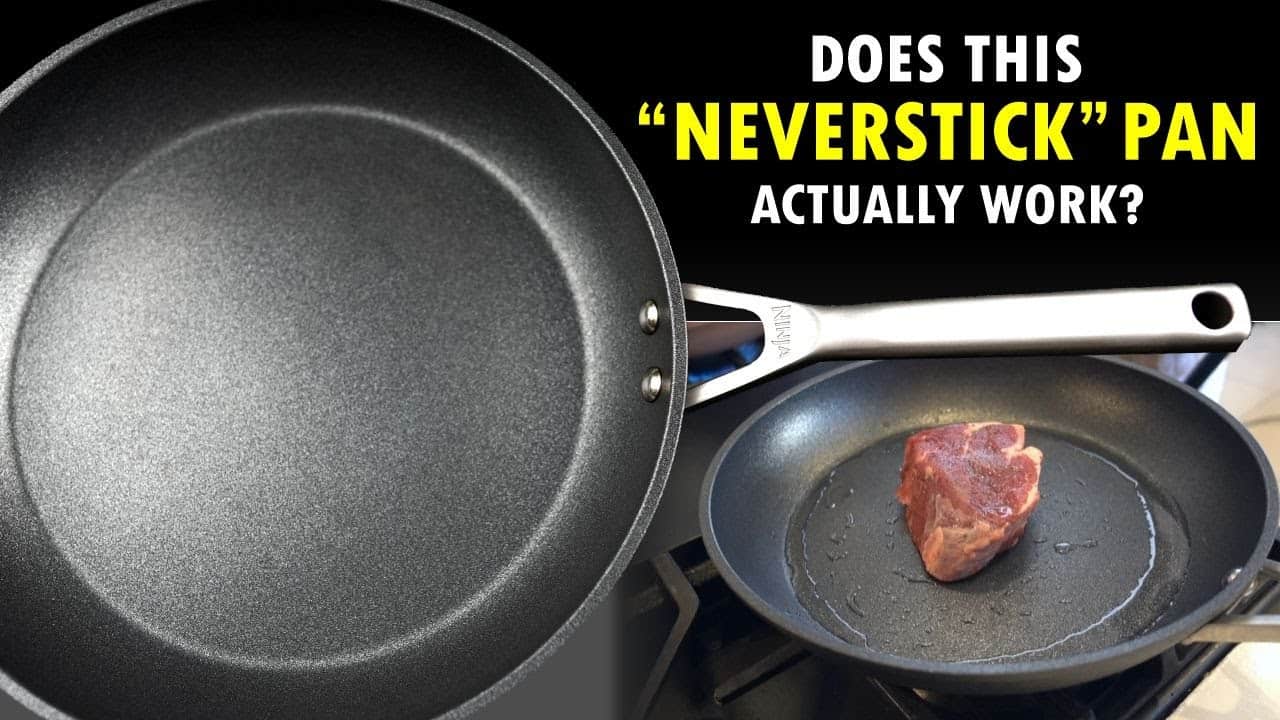 When the saucepot was too small for the ingredients, the stockpot could fill the gap. This set's stockpot isn't the biggest I've seen, but it's big enough to make soup for a large family or a party and big enough to cook pasta or make stock in. It's also big enough to fit third-party steamers with a lot of vegetables in them. When it's time to put the stockpot away, it's not too big to fit in the pantry or on a shelf.
Amazon Best Selling Ninja Foodi NeverStick Pans
Ninja Foodi Neverstick Cookware Design: Looks great for the price
With a rough, pebbly gray exterior and polished and matte textures on the handles, this set looks far more excellent than I expected for the price. The interior matches the outside hue closely, and while it isn't as rough as the exterior, it isn't entirely smooth either. The inside has a glistening quality about it that isn't overdone. The huge sauté pan would be ideal for enormous casseroles or baked pasta dishes, but they aren't attractive enough to serve except at the most informal family gatherings.
The handles are contoured and comfortable to hold, and the pots are all well-balanced, making them easy to use. Each handle has a massive hole at the end, making hanging on any hook simple. The Ninja name is etched into the shiny area of the handle near the body of the pots, which is riveted on for security. Because the logo is on top of the handle, it is visible when using the pots, but it is subtle.
How to enjoy Mexican Street Corn in 4 steps: GRILL the 🌽. SAUCE the 🌽. SHARE (optional) the 🌽. DEVOUR the 🌽. Sounds like ELOTE but it's not. pic.twitter.com/AmxpsOuxeG

— Ninja Kitchen (@NinjaKitchen) August 13, 2019
The lids are glass with a metal rim around the outside and Ninja-branded metal loop grips on top. It's helpful to have that branding solids can be matched with pots if you have many cookware pieces from different companies. Because the lids lack a steam vent, any steam that escapes condenses around the rims of the pots. The lids can be placed slightly ajar to vent steam during cooking; however, a tiny bump will cause the lid to fall back into place. As the lids heated up, I heard a pinging sound; I've seen this with other pots I've tested, but it's never been a problem.
Although the pots lack a pouring spout, the rim's design made it simple to pour liquids, whether a thin soup stock or a more decadent custard. It was also simple to scrape thick, lumpy dishes from the pots.
View Ninja Foodi Never-Stick 16-Piece Cookware on Amazon
Its Sturdy Construction Material: Aluminum, Stainless, and Glass
These are made of cold-forged and anodized aluminum, which is more vital than stainless steel, and they seem substantial enough that they won't dent if dropped. The base is relatively thick at 4.5 millimeters. The exterior is shot-blasted to give it a rough, nubby texture, and it's finished with a dishwasher-safe clear coat. A stainless-steel disk on the bottom assists heat retention and heating, making the cookware induction compatible.
When I wanted to use a whisk, I liked that I could use metal tools, but for the most part, I've switched to silicone utensils. Ninja's unique, Neverstick nonstick cookware set substance is used inside and is safe to use with metal utensils. This cookware should not use sharp metal things like knives and forks. If the cookware is going to be stacked, a dishcloth or other material should be placed between the pans to avoid damage.
The handles are cast stainless steel that has been bead-blasted for a matte appearance and then polished to a mirror gloss. They were easy to handle while cooking and stayed cool enough that I didn't need to use a potholder. However, when I cooked for longer than a few minutes, the loop handles on the lids were hot, necessitating a potholder.
View Ninja Foodi Never-Stick 16-Piece Cookware on Amazon
Extraordinary Heat Resistance: Even, Responsive
These heat evenly and retain heat well, thanks to the solid aluminum and stainless steel base. Still, they're also responsive enough that I could reduce the heat when my eggnog began to simmer lightly, preventing it from reaching a boil, which would have curdled the nog.
They're not only compatible with gas and electric stoves (see also 'Best Pots And Pans For Gas Stove') but also induction compatible and oven safe up to 500 degrees. While I rarely need to use cookware in an oven at that high a temperature, it's nice to know things can handle it if I make a mistake and turn the heat up too high.
Unlike most nonstick cookware I've tried, the instructions for using this skillet were unique. It is recommended that the pan be warmed for 1-2 minutes on low or medium heat before applying cooking oil. I utilized that method for boiling eggs and browning meat, and there were no sticking or burning difficulties.
These don't need to be heated over high heat for typical cooking because of the excellent heat transfer. High heat is excellent when boiling liquids, but medium or even low heat will suffice.
Ninja Foodi NeverStick Cookware Cleaning: So simple
When I cooked an egg in the tiniest frying pan, it didn't stick at all, and I was able to swirl it about and even flip it to make a beautiful over-easy egg. When it came time to clean the pan, nothing was stuck, so it was a straightforward task.
I produced a batch of eggnog, and the delicate custard cooked evenly in the saucepan without sticking or scorching. As a test, I set the pan aside to clean later. When it came time to wash it, I let it soak for a few minutes to soften up the dried-on egg concoction. Cleaning was once again a breeze.
Because I put the heat on too high, the mac and cheese in the pot did stick briefly during cooking. The problem was remedied once I reduced the heat and stirred the pot. When it came time to clean the pot, it was simple to do it by hand.
The lids were easy to clean no matter what I cooked, though I had wet spots when I let them air dry. Of course, the cooking was unaffected, and the spots were quickly removed.
Even better, this cookware can be washed in the dishwasher, though I like hand-washing large pots to make room for more plates, bowls, and glasses. If you're using a dishwasher, be sure the detergent doesn't contain bleach or citrus. Dishwashing the cookware may alter its appearance, but it will not harm its functionality.
View Ninja Foodi Never-Stick 16-Piece Cookware on Amazon
Ninja Foodi NeverStick Cookware Ultimate Set Pricing: Mid-Range
This cookware set is priced in the middle of the pricing spectrum. The pans aren't low-cost items that will need to be replaced soon, nor are they high-end super-premium items. I believe the pricing is fair for the quality, and the collection includes pretty valuable items. Extra pieces may be purchased individually, making it simple to start with a basic set and expand as needed.
Ninja NeverStick Premium vs. Regular – What is the difference?
The Ninja Premium set we tested has a thicker base, cast stainless steel handles, and is anodized for a more robust exterior. In contrast, the non-premium version has a silicone polyester outside coating, hollow handles, and a thinner base.
The Ninja Foodi NeverStick 9-Piece Cookware Set appears to be a great deal at first glance due to its reduced price, but it's vital to consider all of the specifics before making a purchase.
While the two sets appear to work similarly at first, the Premium set's thicker base means it will heat more evenly, resulting in less burning and sticking, and the outside will last longer. I enjoy a good deal, but in this case, I'd rather spend a little more money on the Premium set I reviewed or one of the other Premium sets with more pieces than on a set that might not last as long or perform as well.
The Final Word: Is Ninja Foodi cookware worth it?
It's a good investment. While the Ninja Foodi NeverStick Premium Cookware Set isn't cheap, it's well worth it for the features it offers, and I highly suggest it.
What We Liked
Nonstick – Surface
Safe for metal utensils
Preheat the oven to 500 degrees Fahrenheit.
What We Don't Care For
The smallest skillet has no lid.
On the lids, there are no vent holes.
The Ninja Foodi NeverStick Premium Hard Anodized Cookware Set is nonstick and safe with metal utensils, making it an excellent choice for everyday cooking.
View Ninja Foodi Never-Stick 16-Piece Cookware on Amazon