Ninja Foodie Power Nutri Duo Smoothie Bowl and Blender SmartTorque AutoIQ Review and Demo (2021)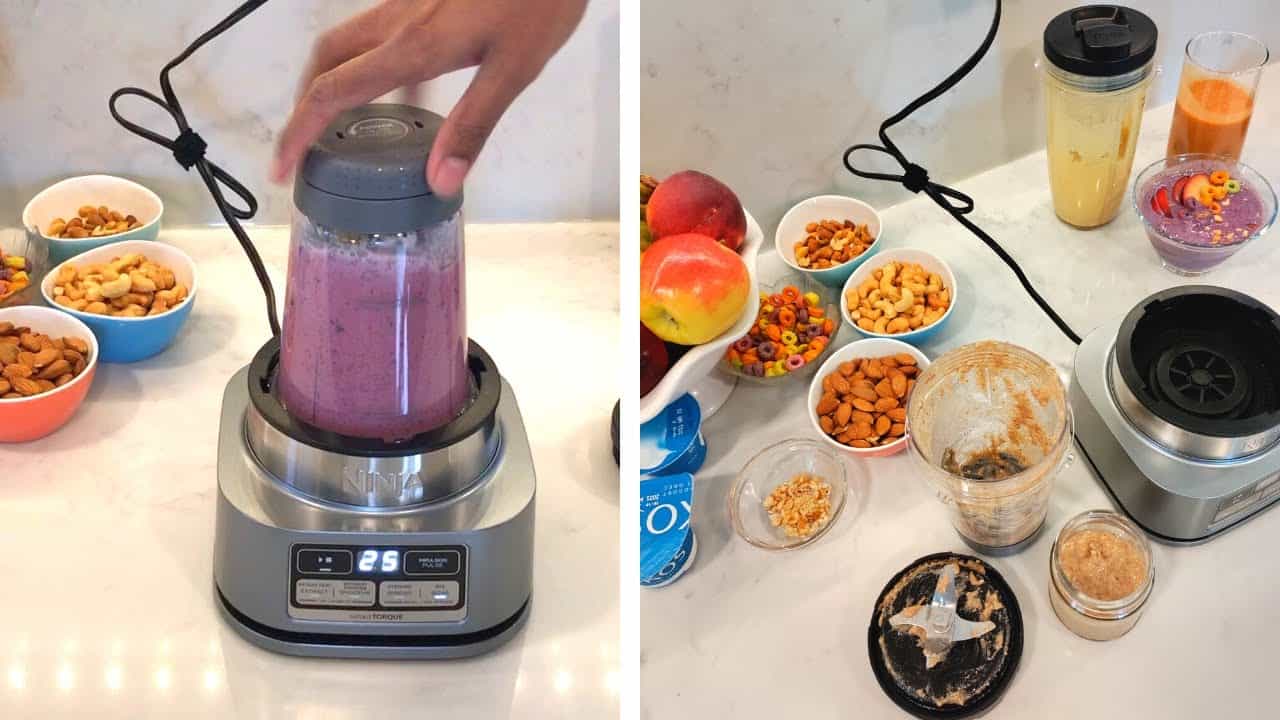 In this video, I am reviewing and testing out the Ninja Foodie Power Nutri Duo Smoothie Bowl and Blender. I'll be testing out all four Auto IQ Programs by making a smoothie bowl, smoothie drinks, almond nut butter spread, and the fruit juice extract.
If you want to check out how much one of these would cost or what the exact specifications are you can check it out using the affiliate link:
Ninja Foodi Smoothie Bowl Maker and Nutrient Extractor with smartTORQUE and 4 Auto-iQ Presets.
The Ninja Nutri Power Duo comes with a smoothie bowl and 2 smoothie cups and has hybrid edge blades, auto IQ programs, and comes with built-in smart torque technology.
The Power Smoothie Bowl maker is great for turning frozen fruits and vegetables into great-tasting smoothie bowls, which you can top with your favorite toppings which can include fruits, nuts, cereals, or whatever creations you can come up with!
You can use the Ninja Power Smoothie blender to make great smoothie drinks for kids and even for yourself, and I am excited to start using this once the summer weather comes around.
The Extract Auto-IQ program on the Ninja Power Nutri Blender can be used to extract all the necessary nutrients from fruits and vegetables that have skins on them or for those essential green leafy vegetables like spinach, kale, etc.
You can also create your own homemade nut butters, using roasted nuts of any kind, you will need to run the Auto IQ program a couple of times to get the desired consistency and smoothness.
Please be sure to SUBSCRIBE for more Tutorials, Reviews, Tips & Tricks. Subscribing is FREE, so go ahead and click here:
*******************************************************************
Filming equipment owned and used for various videos:
Tripod – Flexible, Camera, Phone, 360°Ball Head, 12″ Lightweight Octopus
Tripod – (Long Arm, Overhead, Stand Mount, Adjustable)
Tripod – AmazonBasics 60-Inch Lightweight with Bag
Professional Grade Lavalier Lapel Microphone – Easy Clip-On
2-Head Continuous Studio Lighting Kit
Apple iPhone 7 Plus
Apple MacBook Air
*******************************************************************
DISCLAIMER: Links included in this description might be affiliate links. If you purchase a product or service with the links that I provide I may receive a small commission. There is NO ADDITIONAL charge for you! Thank you for supporting Meem Reviews, Tips and Tricks so I can continue to provide you with free, honest reviews, tips and tutorials!
Music:
#ninjafoodie
#smoothie
#smoothiebowls
#homemadenutbutter