Are you a pizza lover? Do you struggle to get the perfect pizza every time? Look no further than your air fryer! Air fryer pizza is the new craze, and it's easy to see why. With the help of this handy kitchen gadget, you can make delicious homemade pizza in just a few minutes.
In this article, we'll show you how to make air fryer pizza dough from scratch, share tips to get the perfect crust and provide advice on pairing toppings to create the pizza of your dreams.
Homemade pizza is a versatile dish perfect for utilizing your favorite ingredients and an enjoyable process. It begins with creating pizza dough. A pizza dough contains warm water, active dry yeast, and bread. Pizza dough could be made from scratch or store-bought for easier preparation.
Once the dough is ready, you must prepare the pizza sauce, which usually consists of tomatoes, garlic, herbs, and spices. The toppings may include a variety of vegetables such as bell peppers, onions, tomatoes, mushrooms, and proteins like pepperoni, sausage, or chicken. Cheese, particularly mozzarella, is a crucial pizza topping as well.
Ingredients for Air Fryer Pizza Dough
Making air fryer pizza dough is simple and requires only a few ingredients:
2 1/4 cups flour
1 cup warm water
1 tablespoon active dry yeast
1 tablespoon olive oil
1 teaspoon salt
Mozzarella cheese
Tomato sauce
Toppings (pepperoni, peppers, olives, mushrooms, etc.)
Instructions
Combine warm water and yeast in a mixing bowl and let sit until foamy.
In a separate bowl, mix flour and salt until evenly dispersed.
Mix the yeast mixture with the flour mixture until combined to form a dough.
Knead the dough gently on a lightly oiled work surface for about five minutes.
Form the dough into a ball and place it in a greased bowl; cover it with a damp kitchen towel or plastic wrap and let it rise for an hour and a half.
On parchment paper, spread the dough using your hands in a 7-8 inch circle.
Add tomato sauce, cheese, and toppings of your choice.
Preheat your air fryer to 200 degrees Celsius or 400 Fahrenheit for three minutes.
Carefully place the pizza in the basket and fry for five minutes.
After five minutes, your pizza will have a golden top, melted cheese, and caramelized toppings. Serve and enjoy!
Tips for Perfecting Pizza Dough in the Air Fryer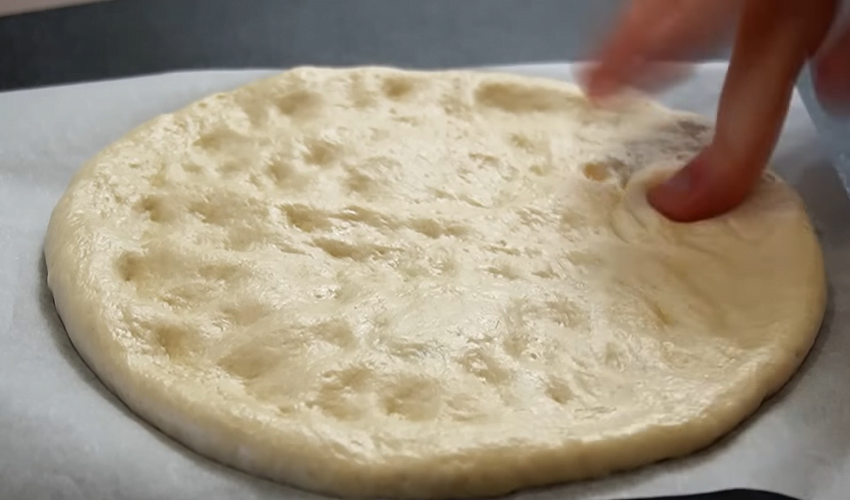 Preheat your air fryer for five minutes before cooking your pizza.
Pre-cook the crust for a few minutes before adding your toppings to help circulation and prevent any uncooked dough on the bottom.
Be aware that different air fryer models have varying cooking times and temperatures. Make small adjustments to your cooking time and temperature based on your air fryer's specifications.
Use parchment paper to avoid damage to your air fryer and ease cleaning. You can then coat the parchment paper with oil before placing your dough on it.
Do not use a rolling pin to spread the dough, as it will not turn out fluffy.
Use dry mozzarella to avoid excess moisture on the pizza.
Less is more when it comes to toppings. Don't go overboard.
Do not overcook the pizza. Five-six minutes tops are the sweet spot.
Adding Toppings on Air Fryer Pizza Dough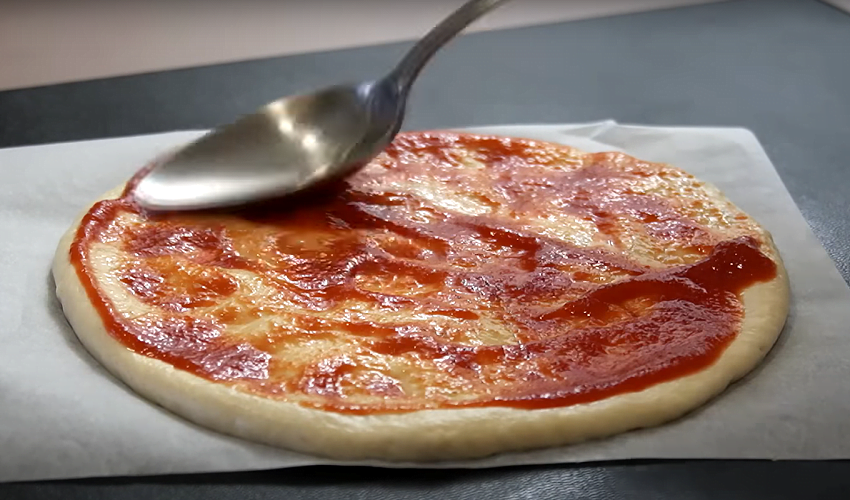 Regarding toppings, the options are endless, depending on your taste preferences. Some great options include:
Tomato sauce, cheese, and pepperoni
Pesto sauce, cherry tomatoes, and mozzarella cheese
Olive oil, caramelized onions and mushrooms, and feta cheese
BBQ sauce, grilled chicken, and onions
Click on the link to explore the recipe and learn how to make this mouthwatering dish in your air fryer. Enjoy! Air Fryer Mac and Cheese Recipe – No Boiling Required!
FAQS about Air Fryer Pizza Dough
Will the crust become crispy in the air fryer?
It can become crispy, but it depends on how long and at what temperature you cook it. Experimenting with cooking times and temperatures is important to get the perfect texture.
Can I use the pre-cooked dough for air fryer pizza?
Yes, pre-cooked crust can be used. It's important to pre-cook the crust to avoid any undercooked dough.
How do I prevent the toppings from burning?
Avoid putting too many toppings on the pizza, as this can cause it to burn. You can also cover the pizza with foil to prevent burning.
Can I cook frozen pizza in the air fryer?
Yes. Allow the pizza to thaw roughly an hour before cooking in the air fryer. This ensures that it cooks evenly all the way through.
Conclusion
Air fryer pizza is an innovative and easy way to make pizza at home. It's perfect for quick dinners, game nights, or even a midnight snack. Following our tips, you can make delicious homemade pizza dough in minutes, with the perfect crust and toppings to suit your tastes. So why not try it yourself and let us know how it goes?
Click now to unlock a collection of mouthwatering dishes that will take your taste buds on an extraordinary culinary journey. These recipes are sure to delight and satisfy you. Don't resist the temptation. Click and embark on a delectable adventure that will leave you longing for more!