How To Use Ninja Foodi (The Ultimate Guide)
The Ninja Foodi is used just like most air fryers and pressure cookers but combined in one. If you are going to use the Ninja as a pressure cooker, you need to use its pressure-cooking lid along with knowing what each button means, such as Pressure and Sear / Sauté. You will also be switching settings of the pressure.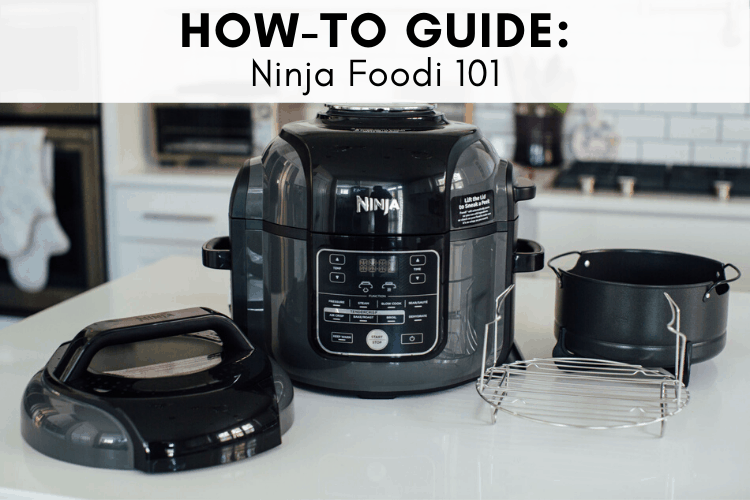 One of life's greatest excitements is knowing how to cook. It keeps our bellies full and connects families and friends. The Ninja Foodi allows you to make good food that everybody wants to come back for more. From the time humankind learn how to cook through basics skills such as grilling over an open fire to the time we started cooking with pots, pans, and ovens, cooking has continued to evolve over the years.
In my opinion, cooking is wonderful when you only have to deal with one type of cooking equipment instead of the hassle of needing to deal with many cooking equipment pieces. So why not make one piece of equipment and combine them all into one? This guide covers how to use Ninja Foodi and its features.
It's both a pressure cooker and air fryer; the Ninja Foodi allows you to prepare recipes that you would normally find difficult to prepare with normal cooking equipment. So, if you're hankering for chicken wings or your sweet tooth is calling for sea salted caramel popcorn, the Ninja Foodi can get it done for you!
Buy: Ninja Foodi 8-Quart 9-in-1 Deluxe at Amazon
Buy: Ninja Foodi 8-Quart 9-in-1 Deluxe at Amazon
So How Do You Use the Ninja Foodi?
The Ninja Foodi is used just like most air fryers and pressure cookers but combined in one. If you are going to use the Ninja as a pressure cooker, you need to use its pressure-cooking lid and know what each button means, such as Pressure and Sear / Sauté. You will also be switching settings of the pressure. The air frying features come with a crisping lid as well, and It will be used with buttons such as the Bake / Roast and Air Crisp.
Buy: Ninja Foodi 8-Quart 9-in-1 Deluxe at Amazon
1. Preheating: It is important to preheat the inside pot of the Ninja Foodi before placing the food into the unit. It's the regular cooking approach on the stovetop or oven where preheating is essential to prepare the oven or pot for proper cooking. Make sure to preheat the inner pot for at least 5 minutes before adding food.
2. Water for Pressure-Cooking: pressure-cooking needs steam to do its job, and some form of liquid starts this process. So, make sure to add at minimum half a cup of water to the inside pot before pressure cooking foods to make your cooking successful. 
3. The Lids: The Ninja Foodi contains two essential lids, the Air Crisping Lid for air frying and the Pressure Lid for pressure-cooking. Make proper use of each lid as instructed by the recipe you are using at the time.
4. Always Use the Inside Pot: Remarkably, the Ninja Foodi notices and overrides if the inside pot isn't put in before cooking. It's a smart appliance! So, make sure to keep the inside pot locked in always before using any of the pressure-cooking or air frying features.
Buy: Ninja Foodi 8-Quart 9-in-1 Deluxe at Amazon
Ninja Foodi Function Buttons
You will find that using the Ninja Foodi at first could be terrifying because you see so many different a button on the unit and you don't know what they mean. Not to worry, I'll break them down one by one so that you will have a better understanding of what they all mean and do.
Air Crisp
The Air Crisp button lets you start the air frying feature to prepare a lot of dishes by heating them. You can even make many recipes without oil. Use the Air Crisp feature in conjunction with the Cook & Crisp Basket to cook your favorite frozen foods, such as French fries, onion rings, and chicken nuggets. Make sure to shake the basket at least once during crisping to make certain you get the crispiest results.
Sear / Sauté
The Sear / Sauté button lets you use your Ninja Foodi to be used as a stovetop. It is great for sautéing vegetables, meat, and other ingredients. In addition to having loads of surface space for searing meats and sautéing veggies, the Ninja Foodi also has five stove-top temperature settings. Use the Ninja Foodi just as you would your stovetop; move between Low, Medium Low, Medium, Medium High, and High. Go from a mild simmer to an extremely hot sear.
Pressure
The Pressure button is a function you'll be using very often because it makes cooking faster. It will also let you how to release the pressure naturally and quickly. Pressure cooking is perfect for tenderizing tough cuts of meat, rapidly cooking rice and everything in between. Select between Low and High pressure, set the cooking time, place the pressure release valve in the Seal position, and you are done!
Slow Cook
The Slow Cook button lets you make recipes that need many hours of cooking at shallow temperatures. The Ninja Foodi is equipped with both Low and High slow cooking settings. If you would rather have the ease of tossing the ingredients into one pot in the morning and coming home to a completely cooked meal, then the Slow Cook function will be your number one go-to button. You can even leave the Ninja Foodi on overnight and find everything good and in one piece the next morning.
Steam
The Steam button lets you cook everything from fish to veggies with no oil at an extremely high temperature. Cooking with steam infuses moisture, keeps in flavor and preserves the texture of your food. Just add water to the cooking pot and add the Reversible Rack in the lower position. Position your food on top of the rack and secure the lid closed.
Bake / Roast
The Bake / Roast button is self-explanatory. If you are not in the frame of mind using an oven or feel like making recipes that need baking, The Ninja Foodi also works like a mini convection oven to cook your favorite baked dishes and roast meats in way less time than in your oven. It takes the Ninja Foodi only 4 to 5 minutes to preheat, a lot less time than your kitchen oven.
Dehydrate
The Dehydrate button not only dehydrates foods into jerky, but it will also help you get rid of any excess oil or when the recipe asks for it. When you use the Dehydrate function, the Crisping Lid lowers the fan speed so that you can eliminate moisture low and slow. Make fruit and veggie chips or create your favorite flavored jerky without extra sugar or preservatives added in-store sold brands.
Which Ninja Foodi has the dehydrator? The Ninja Foodi OP301 6.5-quart, FD401 8-quart deluxe, and Ninja OP401 dehydrator all have a dehydrator; the OP101 5-quart does not.
Broil
The Broil button is used if you are in the mood to make some BBQ or grill something. Broil function on the Ninja Foodi is like having an upside-down barbecue grill. Broil has the hottest temperature setting of all the Crisping Lid settings and is the simplest way to prepare crispier seared meats.
Keep Warm
The Keep Warm mode automatically turns on after steaming, slow cooking, or pressure-cooking time is done. Ninja Foodi is made to keep this mode on for up to 12 hours. If you want to turn it off before the 12 hours is done, you can click the warm button.
Power
The Power button speaks for itself
Start / Stop
The Start / Stop button is used when you are finished setting the time, temperature, or pressure.
Temp
The Temp buttons comprise of arrows and let you set the temperature up and down.
Buy: Ninja Foodi 8-Quart 9-in-1 Deluxe at Amazon
What is Tendercrisp Technology
Ninja Foodi is not just a kitchen appliance with an air fryer and pressure cooker combined into one. It also has Tender Crispy Technology. This technology gives the meat or vegetables a nice and golden-brown finish, unlike most pressure cookers where the food has a pale look.
Tender Crispy Technology also makes it possible for the Ninja Foodi to have both these features working simultaneously all in one unit. Technology lets you do many things, such as cooking frozen food, preparing them crispy, or creating recipes that you typically can't do with traditional cooking methods.
All in one Pot Cooking
Use TenderCrisp Technology to convert boring soups and stews into all in One-Pot recipes. Use Pressure to prepare your favorite casseroles, stews, chilis, and desserts. Then top with cheese, biscuits, or a crust. Switch the top and use the Crisping Lid to broil the cheese, bake the biscuits, or crisp the crust. Prepare the dishes that have been handed down from your grandma to your mother, but with this a distinctive twist: You can prepare them in half the time it took them to make!
Cook from Frozen to Crispy
The Ninja Foodi can cook food directly from frozen, too. Use Pressure to defrost and tenderize frozen meat quickly, then use the Crisping Lid to crisp the outside. No more unequal defrosting using the microwave or waiting hours for your food to thaw on the kitchen counter.
Related:
Why Should You Buy The Ninja Foodi?
What Can You Cook in A Ninja Foodi?
What's The Difference Between Ninja Foodi and Ninja Foodi Deluxe?
What Is A Ninja Foodi? (What Does it do)
Is The Ninja Foodi Dangerous (Basic Safety)
How to Use Ninja Foodi Pressure Cooker?
How to Cook Rice in Ninja Foodi? (Detail Guide)
Is The Ninja Foodi A Crock-Pot? (What's the Difference)
How to Clean Ninja Foodi (Dishwasher Safe Parts)