The folks at Ninja Foodi have always provided ground-breaking solutions to help home cooks in their kitchens. When they first they launched their first blenders back in 2010, Ninja continued to push the limits to the max in the blending business: from the Ninja Master Prep blender, which places the power of blending back into your control, to high-tech kitchen systems that bring together full-size blending and the full power of food processing into a single small appliance. Now with their new Ninja Foodi Cold Hot Blender, they raise the bar again.
Ninja Foodi Cold & Hot Blender is a blender that combines precision-heat cooking with high-speed total crushing and extraction. It goes beyond making smoothies and frozen cocktails or drinks; the Ninja Foodi Cold Hot Blender cooks soups, sauces, and concentrates to infuse flavored waters and cocktails.
This Ninja Foodi cold and hot blender is incredible. The first time I used it, I made creamy tomato basil soup that came in the box, it turned out so delicious, plus it was remarkably simple to make! The final step, whipping it into a silky soup, only took about 30 minutes. I'm going to make ice cream next!
Buy: Ninja Foodi Cold & Hot Blender at Amazon
Buy: Ninja Foodi Cold & Hot Blender at Amazon
Ninja Foodi Cold & Hot; More Than Just a Blender
Did you know that Ninja blenders are recognized for their powerful blades and ability to crush ice to "fluffy snow"? This indicates that with a powerful Ninja blender, you can create frozen drinks and treats in seconds or liquefy hard fruits and vegetables into juices and smoothies.
But what if you could use your blender to make hot soups and sauces, rendering mealtime a breeze? You can cook ingredients and form flavor with the Foodi Blender's precision 800-watt heating element. Unlike rival blenders that use friction heat to warm ingredients, the Ninja Foodi Blender delivers precise heat and can bring liquids to a boil within minutes.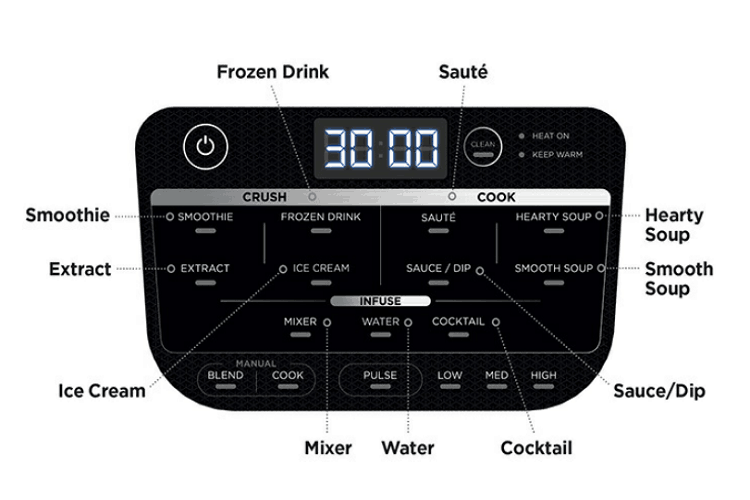 Buy: Ninja Foodi Cold & Hot Blender at Amazon
You can also infuse natural flavors for handcrafted cocktails, flavored waters, and concentrated mixers with the Ninja Foodi Blender's precision heating element. You can also make naturally infused alcohol within minutes, not weeks.
The Ninja blender has multiple features at your fingertips; the Foodi will help unlock your creativity and elevate your favorite meals. It will quickly change your mind's perception of what a blender can do, bringing everything you expect from this kitchen appliance staple and so much more!
Ninja Foodi Cold & Hot Blender can serve as a multi-purpose device. No other device can replace it. It is a durable appliance. All its components are solidly made and assembled so that this appliance will last years in your house. It would be best to buy it because it is all in one gadget. It works exceptionally well.
Most of the food is cooked well in time because it cooks faster than other appliances. It does an excellent job of blending cold drinks and making hot soups. It's a good option if you have a small kitchen. If you can accommodate it, your life will become easier.