Ninja Foodi Digital Air Fry Oven (Flips up & Away)
The Ninja Foodi Digital Air Fry Oven is an all in one toaster oven. It 's a convection oven that roasts, bakes and air-fries all your favorite foods with even, fast heat. Get extra-large oven capacity without losing kitchen countertop space with its exceptional design that lets you flip…
Today's home cooks have come to love this new kitchen appliance category of multicookers. The Ninja Foodi Digital Air Fry Oven can do a variety of tasks. Whether it's a pressure cooker that can also slow cook or a pressure cooker that can also air fry like the original Ninja Foodi Pressure Cooker, these kitchen countertop wonders are transforming the way we cook.
The Ninja Foodi Air Fry Oven is an air-fryer, toaster oven, and convection oven. It bakes, roasts, and Air-fry's foods. With its Digital Crisp Control Technology, it deliveries even, and fast cooking. The Ninja Oven is 45% larger than traditional toaster ovens; it fits up to 9 slices of toast, a 13″ pizza, or 6 chicken breasts.
The Ninja Foodi Air Fry Oven is unlike any other toaster oven. That's because you can prepare anything from French fries and chicken wings to cakes, cookies, toast, and jerky foods. Then when you're finished, it flips up under the counter, away it goes.
Buy: Ninja Air Fryer Toaster Oven at Amazon
Buy: Ninja Air Fryer Toaster Oven at Amazon
Ninja Foodi Toaster Oven
Traditional countertop Toaster ovens have never completely achieved that movie-star status. Yes, they're good for toasting, or easy baking tasks, or warming pizza, but because of their small size, at times, it makes them challenging. If they were made large enough to prepare big batches of food, they took up all the space on your countertop.
Ninja Foodi Digital Oven; Not Just an Air Fryer
With their promising ability to crisp up "fried" foods with a minimum of fat and a minimum fuss. But like many toaster ovens, they're small. Their baskets are deep and narrow, making it difficult to cook food evenly and almost impossible to cook family-size dinners.
Combination air-fryer/countertop ovens solve those issues, but instead of being small, most are big and bulky, which presents another set of problems. They're difficult to move and hard to store when not in use. And many kitchens do not have the space to make them permanent countertop fixtures.
Buy: Ninja Air Fryer Toaster Oven at Amazon
Buy: Ninja Air Fryer Toaster Oven at Amazon
The Ninja Foodi Digital Air Fry Oven gives you the best of both worlds; it provides lots of space to cook for your family, and It has a removable crumb tray and an accessible back panel for easy, thorough cleaning. With a range of cooking functions and temperatures, it can handle everything from breakfast bagels to french fries, to a family-size sheet pan meal, to a delicate dessert.
We Made Chicken wings with the air fry basket and trypan; the wings came out crispy and flavorful. The trypan on the bottom of the oven is where the drips of fat collect as it cooking along with any crumbs that fall off the food. The trypan is very easy to remove and to keep clean.
The backside of the panel provides a clear entrance to the inside of the oven for deep cleaning. I suggest deep cleaning the oven after cooking grease foods. You can flip up to store it to take up a lot of kitchen counter space. It works flawlessly; it has become my family to go to the oven for most things.
Ninja Foodi Digital Air Fry Oven can serve as a multi-purpose device. No other device can replace it. It is a durable appliance. All of its components are solidly made and assembled so that this appliance would last for years in your house. It would help if you surely bought it because it is all in one gadget. It works exceptionally well.
Most of the food is cooked well in time because it cooks faster than other appliances. It does an excellent job of preparing large meals in a small space and air frying foods. It's a good option if you have a small kitchen. If you can accommodate it, your life will become easier.
Buy: Ninja Air Fryer Toaster Oven at Amazon
Ninja Foodi Digital Air Fry Oven Reviews
Thecookingworld.com Says;
The Ninja Foodi Oven offers more than the regular air fryers you find on the market. Its excellent cooking times and its multifunction capabilities make this unit a great option for looking for an air fryer and a toaster oven. For us, the biggest drawback is the fact that it can roast a chicken or bake a loaf. If this limitation is not a big deal for you, we say go for it; you will love this unit!
Erika Rawes from digitaltrends.com says;
The Ninja Foodie Digital Air Fry Oven is an absolute winner, offering tons of functionality at a reasonable price point. With a retail price of $230, it's an ideal cooking solution for a dorm room, small apartment, or even as a secondary cooking device or toaster oven.
Thecookingworld.com Says;
In the end, the pros of the Ninja Foodi Digital Air Fry Oven, which has 4.7 stars on Amazon, do outweigh the few disadvantages. Unless you are planning on cooking for an entire crowd, it is a great choice for a home cook trying to make healthier, easier meals. If you're looking for an air fryer and a toaster oven, this product is definitely worth your consideration. The only real dings are that it takes up a lot of space and isn't the best air fryer, though again it's a solid toaster oven–air fryer combo. It's not an inexpensive product, but it costs equal to or less than the Breville and Cuisinart ovens.
Ninja AG551 Foodi Health Grill and Air Fryer Demo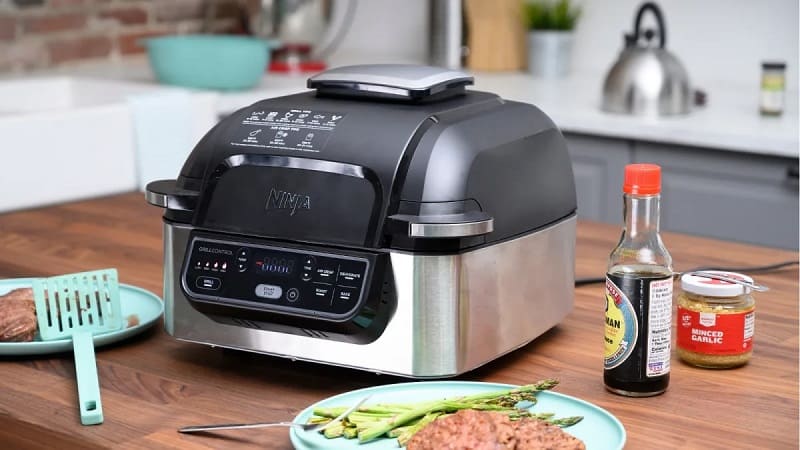 In this video i demonstrate and cook on the Ninja AG551 health air fryer and grill. For a great buy visit here:
Best Air Fryer 2021 – The only 3 you should consider today!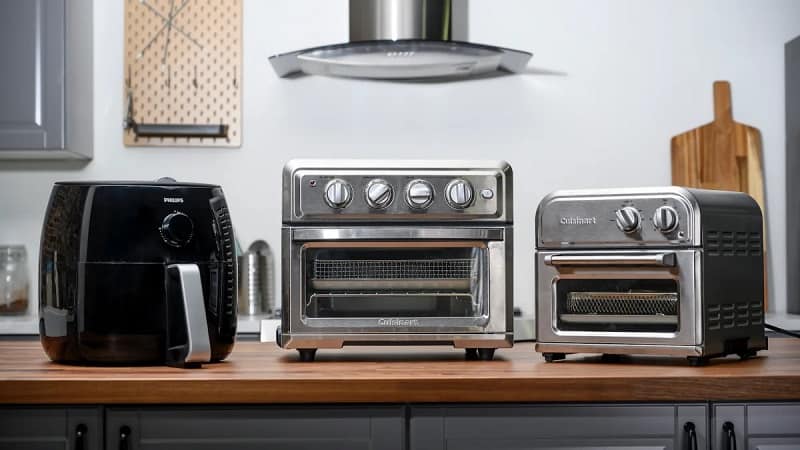 Check out the 3 best air fryers of 2021. These are absolutely the best in terms of quality, performance, value, price, and versatility. We have taken a look at many air fryers and bring you the three that you should make your choice from. You will also get to know one surprising disadvantage of air fryers in the video.
1. Cosori 5.8 Qt
2. Ninja
3. Philips Premium Digital
#AirFryer #AirFryerReview #BestAirFryer2021
You can check out many more top rated devices and sports and outdoor equipment at
COPYRIGHT ISSUE: DOES SOME CONTENT HERE BELONG TO YOU?
Some of the footage used in this video is not original content produced by Up on Top. Portions of stock footage of products was gathered from multiple sources including, manufactures, fellow creators and various other sources. If something belongs to you, and you want it to be removed, please do not hesitate to contact us at upontop.channel[at]gmail.com
Affiliate Disclaimer: As an Amazon Associate I earn from qualifying purchases.
Content Disclaimer: The footage in this video fall under fair use and was created as promotional/educational material.
What can you cook in an air fryer?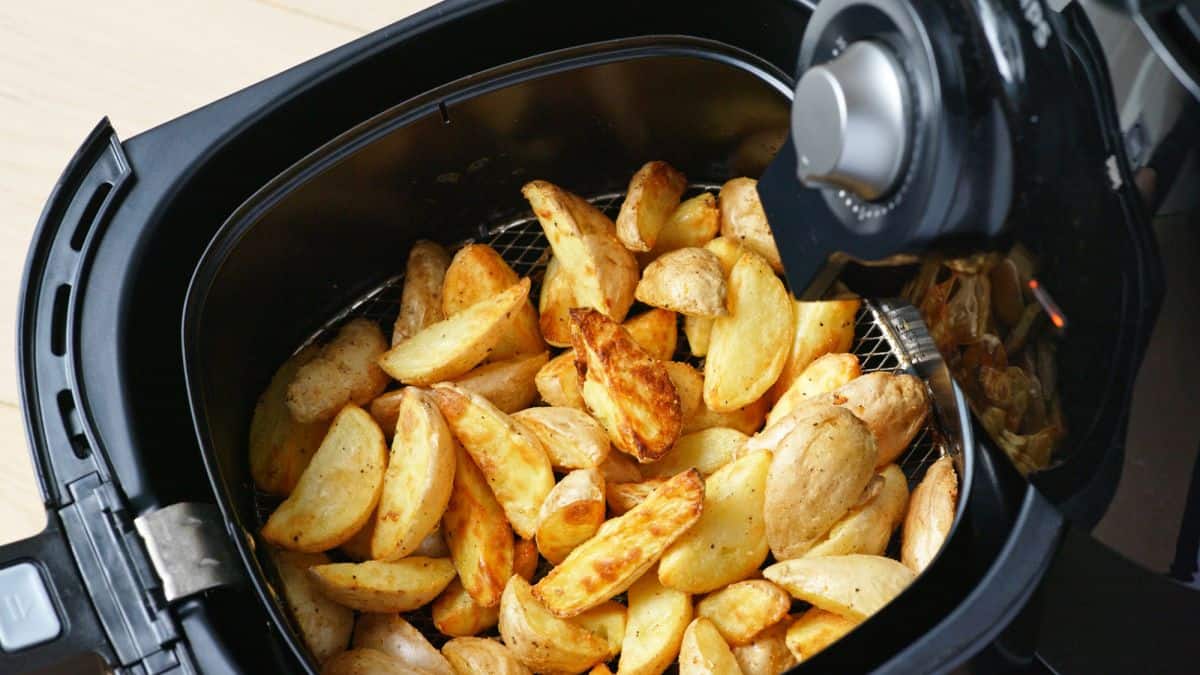 Want to mix up the way you cook without spending extra time and effort in the kitchen? Of course you do – and this is where the best air fryers come in.
Air fryers provide an alternative way to rustle a meal and use (you guessed it) air to heat your food in a similar way to convection ovens. This means that hot air circulates around the food until it is cooked and has a crispy exterior.
Since the food is cooked with hot air instead of dissipating heat in a pan or direct heat from a grill, the cooking times are much faster than you would expect from a traditional gas or electric stove or hob, for example.
While it is possible to deep-fry food in minutes or even seconds, another benefit of air fryers is that they require very little oil at all, making them a healthier option than deep-frying or shallow frying.
If you are thinking about investing in an air fryer, you probably want to find the best option for your budget. Since these machines take up a lot of space on your countertop, it pays to research all the meals that could be made in one – and there are literally hundreds out there.
It's probably fair to say that many people associate air fryers like the Tefal ActiFry Genius XL with making healthier french fries or perfectly crispy potatoes. But what else can these machines cook?
What can you cook in an air fryer?
Air fryers allow you to cook a whole range of dishes, from crispy fries to desserts, and make them quick too. When it comes to hearty meals, you can cook frozen fried foods straight from the freezer. When you choose an air fryer like the Ninja Foodi Dual Zone air fryer, you can use the two drawer design.
Since air fryers use intense heat and air circulation to cook your food, keep in mind that cooking times are likely to be much faster than a traditional oven. French fries, for example, can be cooked in just 15 minutes.
Other hearty dishes that are perfect for air frying include chicken wings, meat, root vegetables, and homemade potato chips. However, you will be surprised that gnocchi and ravioli can be cooked this way too, and even mini pizzas. If you're looking for healthier snacks, chickpeas will crisp up nicely in an air fryer, while you can make your own vegetable chips with kale or zucchini / zucchini.
It's not just side dishes that you can cook in an air fryer. Dishes like fajitas can be cooked entirely in an air fryer. However, as with anything you roast in the open air, be careful not to overfill the roasting basket or drawer, as this will lead to longer cooking times and food that is not cooked evenly.
Do you want an air fryer now? Then check out the best prices on ring doorbells below:
Today's Best Ninja AF300UK Foodi Dual Zone Air Fryer, Tefal ActiFry Genius, Instant Vortex Air Fryer, Ninja Air Fryer, NuWave Brio 37001 and Deals
Can you cook raw meat in an air fryer?
You can use an air fryer to cook raw meat like a stove or stovetop. Steak is very easy to cook in an air fryer – all you have to do is turn it halfway through cooking. Frozen chicken nuggets as well as fresh, raw chicken can also be cooked with an air fryer.
Sausages are also suitable for air frying and, depending on the size and number of sausages prepared, can be prepared in around 10 minutes. If you're cooking particularly fatty cuts of meat like bacon, air frying won't boil off the fat, but you won't get fatty slices of bacon either, as you don't need to use extra oil.
It's not just pieces of meat that you can cook in your air fryer – dishes like meatballs are great for cooking this way and they are given a deliciously crispy outer coating. Note, however, that at such high cooking temperatures it is very easy to burn your food. So keep an eye on it.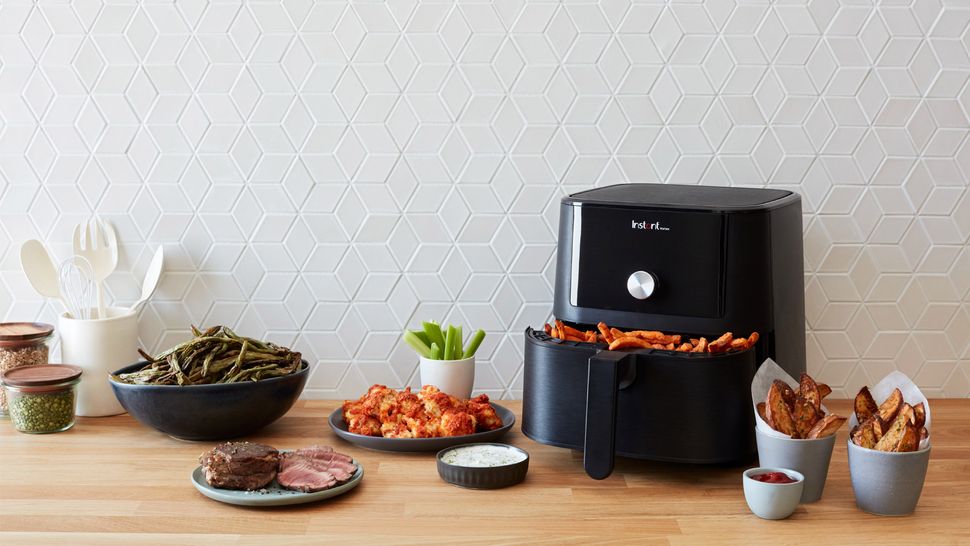 (Image credit: Instant Pot)
What desserts can you make in an air fryer?
It is easy to assume that air fryers are only intended for cooking savory dishes, but these handy devices can also be used for sweet foods.
Churros and donuts are great desserts to make in an air fryer, and you won't get a greasy finish like you can expect from deep-frying. Small cakes work well in air fryers, and you can also make s'mores (marshmallows and chocolate between two pieces of graham crackers if you didn't grow up in the US) and fritters (deep-fried pastries). .
Another thing that might surprise you: Because air fryers mimic the way convection ovens work, they're also a fantastic way to bake cakes. The hot air circulation ensures that your cake is baked evenly throughout.
If you've sworn off the donuts and are looking for a healthier selection of desserts to make in your air fryer, fruit works surprisingly well. Apple slices turn into crispy, tasty snacks, and even softer fruits like peaches are delicious if you sprinkle them with a little cinnamon and sugar before cooking.
If you want even more options for making desserts, consider a model like the Ninja Foodi Multi-Cooker, which combines air frying functions with other convenient functions like baking, searing, slow cooking and grilling.
What can't you cook in an air fryer?
Unsurprisingly, there are some foods that cannot be cooked in an air fryer. In general, dishes with a damp batter are not suitable for air frying – the batter does not set properly and it is very difficult to clean the machine afterwards – so it is better to stick to a deep fryer.
Other foods that don't work as well include raw greens like broccoli and dishes that require water like rice. If you're a big cheese fanatic, air-frying foods with cheese isn't the best idea – you're going to have a whole lot of mess rather than a tasty treat.