There are almost too many cooking choices; cast-iron fans vouch for the traditional skillet, and the home chef prefers the stainless steel. Then many people want a nonstick fry pan because it's so much easier to clean. The team at Ninja has now come up with Ninja Foodi's neverstick cookware that satisfies any home chef. But is the neverstick surface safe?
Yes, the Ninja NeverStick cookware is safe. When making the Neverstick surface, no toxic or harmful materials such as PFOA are used. This means the surface is 100% safe and non-toxic while maintaining a nonstick surface; the handle and nonstick coating are safe in the oven to 500°F.
Having spent most of my cooking PTFE (Teflon) cookware. I jumped at the chance to test the Ninja's NeverStick Premium Hard-Anodized Cookware. I quickly discovered I no longer had to worry about my food getting crusted and sticking to the pan with the ninja pots and pans set.
Buy Ninja Foodi Neverstick Cookware Set Price Comparison
Below we compare prices for the Ninja Foodi NeverStick Premium Cookware with the NeverStick cookware that never sticks, chips, or flakes.
| Store Sold by | Product Description | Price |
| --- | --- | --- |
| Amazon | Ninja Foodi Neverstick 16 piece Cookware Set | $499.99 |
| Bed Bath & Beyond | Ninja Foodi Neverstick 13 piece Cookware Set | $349.99 |
| Ninja Kitchen | Ninja Foodi Neverstick 13 piece Cookware Set | $349.99 |
| Kohl's | Ninja Foodi Neverstick 10 piece Cookware Set | $249.99 |
| Best Buy | Ninja Foodi Neverstick 13 piece Cookware Set | $349.99 |
| Macy's | Ninja Foodi Neverstick 13 piece Cookware Set | $669.99 |
| eBay | Ninja Foodi Neverstick 13 piece Cookware Set | $499.99 |
Ninja Foodi Premium Cookware
I've used skillets many times. I love how rib-eye steaks come out tasting when cooked on a cast-iron pan, and a regular nonstick pan cannot cook them in the same manner. The Ninja Foodi cookware 10.25″ skillet is the best thing for cooking a steak.
The claim is that the Ninja Foodi cookware will never chip, flake, or stick, which happens with other brands. The Ninjas pan is heated to 30,000 °F when constructed, while your other brands are made at 900 °F. That more moderate temperature sets back regular cookware, as it will quickly lose its nonstick characteristic.
What made me buy the NeverStick cookware over traditional nonstick cookware was that it could go in the oven. Its comparability to iron pans comes into play: You can move your skillet from the stove to the oven to cook practically anything. The handle and the nonstick layer are ovens safe up to 500°F, and after using it, say it feels almost as heavy as a regular cast pan. But a wee bit more attractive?
Buy: Ninja Foodi Never-Stick 16-Piece Cookware at Amazon
Ninja Foodi Neverstick Premium Hard-Anodized Cookware Set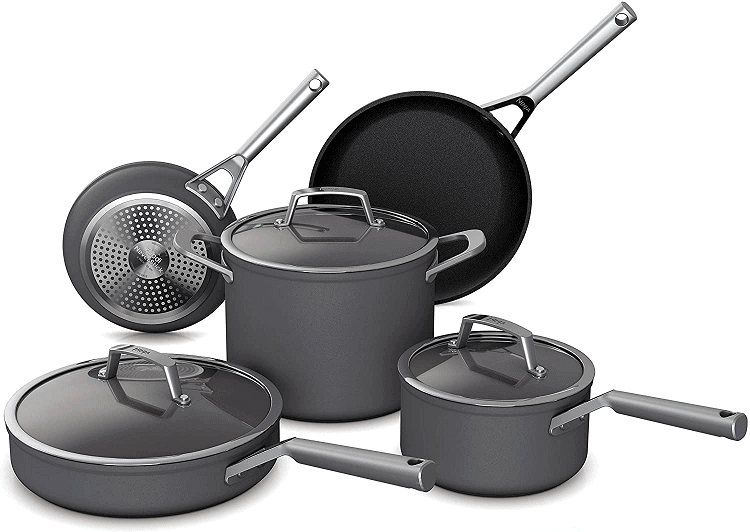 Buy: Ninja Foodi Never-Stick 16-Piece Cookware at Amazon
Ninja™ Foodi NeverStick Premium Cookware will NEVER stick, chip, or flake.
The difference is in the degrees. NeverStick cookware is created at a max temperature of 30,000°F. Traditional nonstick cookware is created at a max temperature of 900°F, so they can rapidly lose nonstick.
NeverStick Technology ensures the durable, textured Ninja exclusive nonstick enables excellent food release day after day without sticking. Shot-blasted, the hard-anodized exterior is stronger than metal.
Forged-aluminum design uniquely distributes metal thickness throughout the pan for even heat distribution and hot-spot prevention, so food cooks quickly and evenly 30% more aluminum than Ninja Foodi NeverStick C100 series for improved heat retention.
Lid handles and nonstick coating is all oven-safe up to 500°F. Easily go from stovetop to oven to finish cooking meats, brown toppings, or bake.
Dishwasher safe. Free of PFOA, PFAS, cadmium, and lead. All range capable: gas, electric, glass-ceramic, and induction.
Sear like you can in stainless steel. Plus sauté, griddle, pan-fry, bake, roast, broil no need to cook with oil or butter.
Cast solid steel handles to allow for oven use up to 500°F and is ergonomically designed Double-riveted for strength and maneuverability. The long handle is stay-cool.
Designed to withstand high-heat cooking and aggressive scrubbing. Fully backed by the Ninja NeverStick lifetime warranty. *When used as directed. A lifetime based on 5 years.
Sleek stainless-steel-rimmed tempered glass lids prevent splatter and lock in moisture while ensuring maximum visibility. Oven safe up to 500
Ninja Foodi Premium Cookware Reviews
According to Ana Suarez from sfgate.com ;
This cookware line is officially called Ninja Foodi NeverStick could Ninja possibly cram anymore trademarked words into a product title? Anyway, after using the pans, I no longer have to worry about my food getting crusted and stuck on the pan. This cookware is like nonstick had a baby.
According to Rachel Trujillo from foodnetwork.com ;
While I am a fan of each pan individually, Ninja is currently only offering this line in a set except for the 8-inch and 10.25-inch fry pans, which can be bought individually in-store. Since this set has many benefits of stainless, nonstick and it's a great set for anyone looking for a complete refresh or is moving into a new home for the first time (college students and recent-grads, we're looking at you!). It's an easy-to-use, simply-to-clean line of cookware that we think is a great match for home cooks at any level.
According to consumerreports.org ;
Nonstick food release score reflects the nonstick qualities of a pan's interior by cooking four eggs consecutively. The pan is initially seasoned with vegetable oil before cooking the first egg. An Excellent score indicates that all four eggs slid off the pan without assistance; A Poor score indicates that scraping was needed to release an egg from the pan, and some egg residue was left on the pan.
Related:
Source:
https://www.foodnetwork.com/how-to/packages/shopping/product-reviews/ninja-foodi-neverstick-cookware-review
https://www.sfgate.com/shopping/article/Ninja-foodi-neverstick-cookware-review-15559761.php
https://www.coppercookwarereviews.com/ninja-foodi-neverstick-cookware-review/