If you're a coffee lover who values convenience and versatility, you've probably heard about the Ninja Specialty Coffee Maker. This state-of-the-art coffee machine is one of the best drip coffee makers on the market, offering a range of brew styles, cup sizes, and advanced features that surpass traditional models. In this Ninja Specialty Coffee Maker review, we'll explore its design, features, and performance to help you decide if it's worth the investment.
Create café-quality coffee at home with the Ninja Specialty Coffee Maker. Our advanced technology delivers rich, flavorful coffee that will rival your favorite coffee shop. Plus, with the ability to make hot and cold coffee drinks, you can enjoy a variety of beverages right from your kitchen.
Take your coffee game to the next level and order your Ninja Specialty Coffee Maker today.
Buy: Ninja Specialty Coffee Maker at Amazon
Ninja Specialty Coffee Maker Design and Features
Its sleek, modern design sets the Ninja Specialty Coffee Maker apart from other coffee machines. The stainless steel exterior, ribbed water tank, and unique brew group give it an industrial coffee bar vibe that's sure to impress your guests. The fold-away frother whisk and hanging storage on the left side of the machine make it easy to froth milk for your lattes and cappuccinos.
The Ninj allows you to brew in six sizes: standard cups, XL single cups, travel mugs, XL travel mugs, half carafes, and full carafes. It's perfect for households with diverse coffee needs or for those who like to entertain guests. There are four brew styles: classic, rich, over-ice, and specialty. The latter is designed to produce super-rich coffee concentrates that can be blended with milk to make frothy specialty drinks.
The control panel is intuitive and user-friendly, featuring a Multi-serve dial for selecting your brew size, prominent buttons for each brewing style, and a delay brew function that automatically allows you to program the machine to brew at a specific time.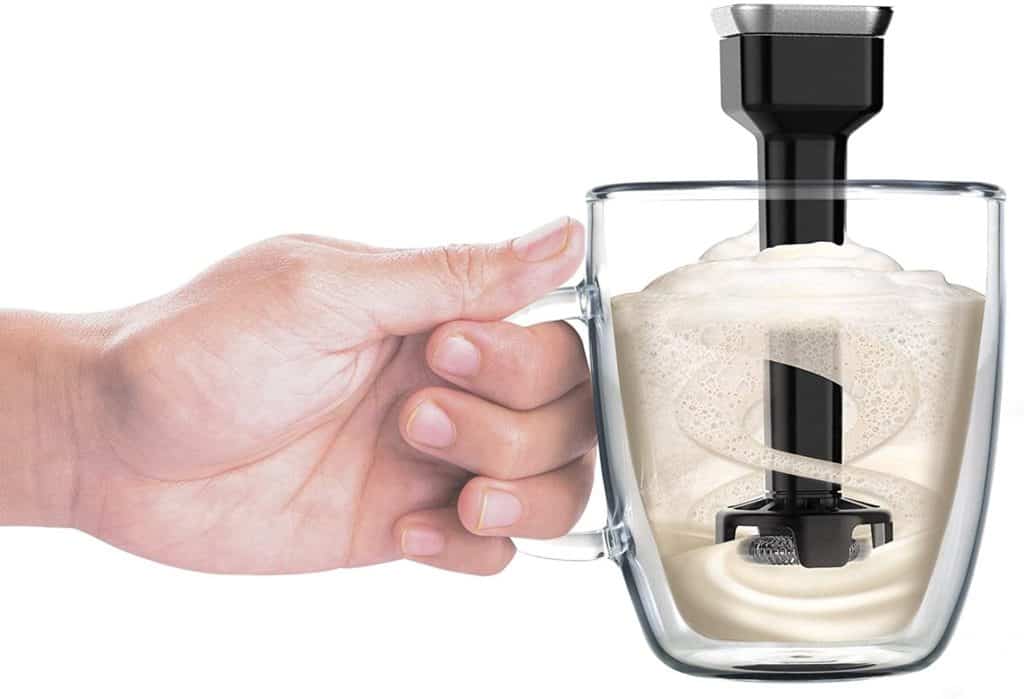 Buy: Ninja Specialty Coffee Maker at Amazon
Performance
The Ninja Specialty Coffee Maker's standout feature is its Thermal Flavor Extraction technology, which controls bloom time, saturation level, and water temperature to ensure a well-balanced extraction. This makes for a delicious, full-bodied coffee, regardless of your brew style.
According to a review by Coffeeble, the Ninja Specialty Coffee Maker utilizes Thermal Flavor Extraction technology to control bloom time, saturation level, and water temperature, resulting in a well-balanced extraction and a flavorful cup of coffee.
When testing the Classic and Rich brew styles, I used a single-origin coffee from Mexico with a fairly light roast flavor profile. Although I noticed subtle differences in flavor and mouthfeel between the two styles, both tasted equally delicious.
The Over Ice function is another handy feature that allows you to enjoy flavorful iced coffee at the push of a button. The machine brews double-strength coffee over a cup of ice, creating a mellow and refreshing iced coffee perfect for hot summer days.
Specialty Brew is where things get interesting. Although the Ninja can't produce true espresso due to the lack of pressure, it can brew super-rich coffee concentrates that resemble espresso. I used a medium-fine grind of the same single-origin coffee and was pleasantly surprised by the resulting 4-ounce coffee concentrates. They're perfect for making lattes and cappuccinos when combined with frothed milk from the machine's fold-away frother whisk.
Check out: How to Make Espresso with Ninja Specialty Coffee Maker
FAQs
Q: Is the Ninja Specialty Coffee Maker easy to clean?
A: The machine has a gold-tone permanent filter that can be easily removed and rinsed under running water. You can also remove the brew basket and water reservoir to clean them with a damp cloth.
Q: Does the Ninja Specialty Coffee Maker have a built-in grinder?
A: No, the machine doesn't include a grinder. You'll need to use pre-ground coffee or grind your beans separately.
Q: Can I adjust the temperature of the warming plate?
A: You can manually adjust and program the warmer plate temperature if you prefer more control over your coffee's temperature.
Conclusion
The Ninja Specialty Coffee Maker is a superb drip coffee machine with exceptional versatility, advanced features, and a stylish design. Its Thermal Flavor Extraction technology ensures you'll get a well-balanced, full-bodied cup of coffee every time. Although it's not the cheapest coffee maker on the market, it's a worthy investment for coffee lovers who want convenience, variety, and quality in one machine.
So, if you're ready to upgrade your coffee game and impress your guests with delicious specialty drinks, the Ninja Specialty Coffee Maker is worth checking out!
Note: Although we strive to provide accurate and up-to-date information, details and availability may vary. Please check Amazon or other trusted retailers for current prices and features.